Tell the Story… This is Gary
Tell the Story Coffee Table Book
We all have a story. And we from Gary, definitely have a story!A Story to be celebrated. A Story to motivate. An opportunity to collaborate.Our voice matters because our experiences matter as we reflect on the past,acknowledge the present and plant seeds for the future. The call to action issimple, tell the story.
Place your Story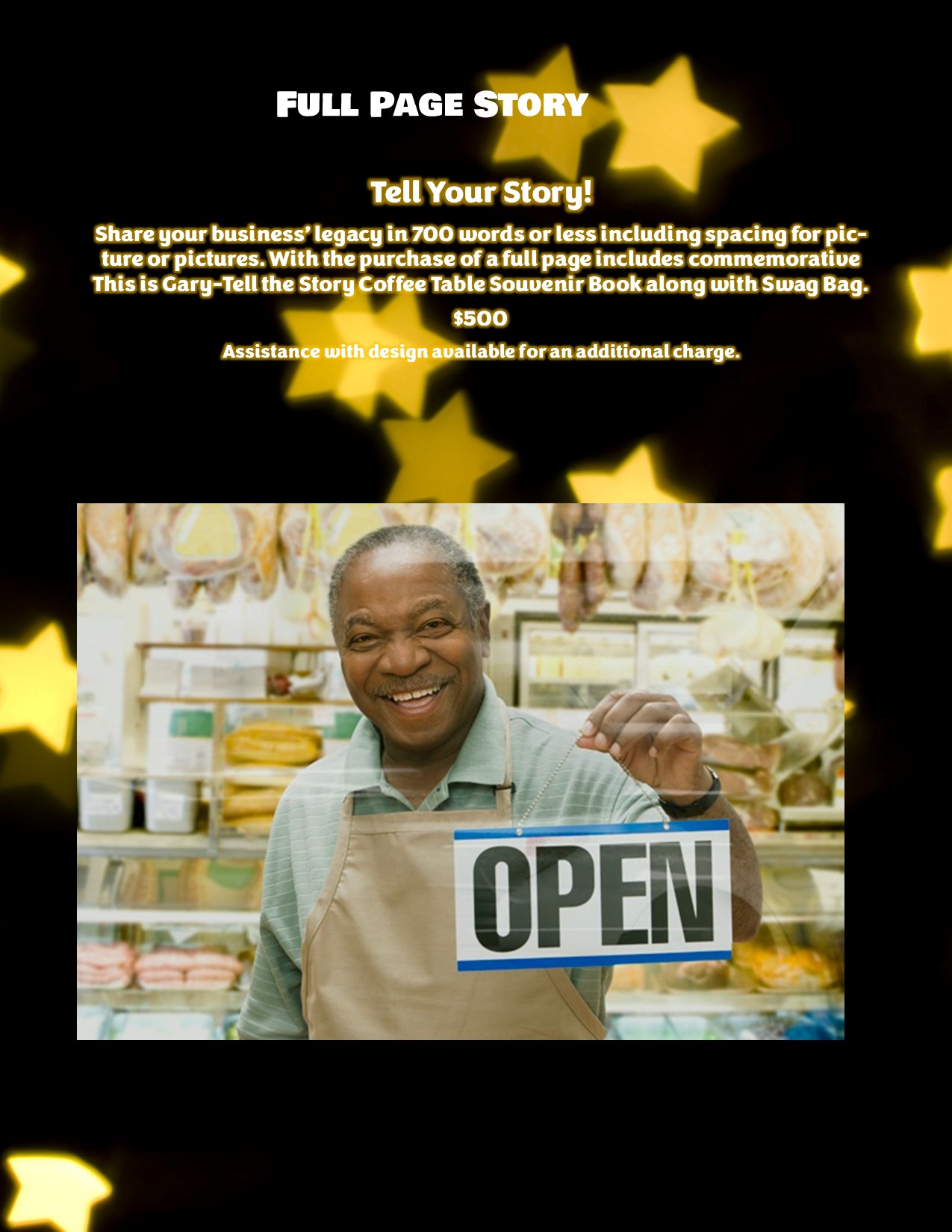 Full page Business Story
Full page Organization Story
What is the overall intent of this book?
Our goal is to capture the story of the Gary experience as witnessed by those who know Gary best. This is an effort to effectively transform the narrative of this City by highlighting all that is Great as we also work to physically transform the city starting with the gateway entering into the City at 26th and Broadway to be known as Victory Way. The proceeds raised in this effort will go towards completing the vision currently underway.
What does it cost to be included in the book?
There are several ways to be included.
1. Invest in a full page for $500 that you may design featuring up to 700 words including pictures and receive a Commemorative Copy of The Coffee Table Book.
2. Invest in a half page for $250 that you may design featuring up to 300 words including pictures and receive a Commemorative Copy of the Coffee Table Book.
3. Invest in a business card size space for $100 that you may design using up to 3 lines with a picture or 4 lines.
4. Support by being a patron of the project for just $25.
5. Purchase your very own copy of The Coffee Table Book for $50.
Where do I send my info to be included in the book?
You may visit our website at www.thisisgaryvw.com to complete the process of submitting your information along with payment and then upload your camera-ready artwork (pdf, jpg, png or gif formats only) or you may stop by J's Breakfast Club at 3669 Broadway Gary, IN.
What can I include in my story?
Your story is your story and you can include the facts that you choose to share. We ask that you keep in mind that this will be shared as your legacy and with many for years to come. Depending on your size of your investment will determine the space available to tell your story. Limitations do apply.
Can I get help to design my story for the book?
Yes, designers are available to assist at an additional cost. Contact us directly for more information and for costs.
Will I receive a book for contributing my story?
All participants making an investment for a full or half page will receive a Commemorative Copy of the book. Copies will be available for sale for $50 per book.
What is the deadline to submit my story and investment?